P A I R I N G + S E R V I N G S U G G E S T I O N S
Erin recommends topping this soup with ripe avocado slices and a pinch of Himalayan sea salt!
Have a serving recommendation? Share it with us!
L O C A L H I G H L I G H T S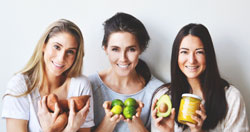 This recipe was developed by Erin Ireland!
Erin's website To Die For is packed with plant based recipes, Vancouver food news and events worth checking out.